'Tis the season to be … jolly about having an organized closet!
Huh? Don't have one of those? Or maybe you have one, but aren't so jolly because the season changed on you, and now you need to access a whole different set of clothing?
For me, I solved the seasonal clothes "musical chairs" dilemma by having two closets – one consisting mostly of clothes for cooler weather; the other for warmer weather. One closet is a walk-in and the other is a reach-in.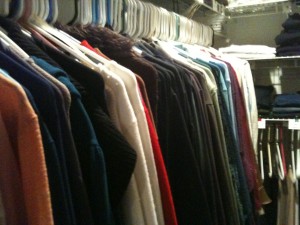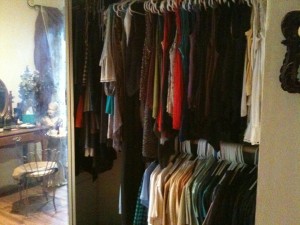 However, I know that everyone doesn't have two clothes closets in their bedroom. So, we manage with other solutions.
Most closet tips I read about suggest:
Parring down your clothes
Make room for the new season and store out-of-season clothing in space-saver bags within containers under the bed, or hung within mobile wardrobe storage closets.
Grouping wardrobe pieces together that work together
Parring down your clothes
Oh, did I mention parring down your clothes twice? Purely intentional, actually.
While the above are all good tips, in my professional opinion, I want to add my 2-cents about working with different size closets. Large or small, all closets have the same issues. And, it's always about space.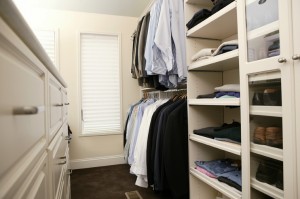 With large closets, for example, it may not be such a problem to store all-season clothing in same space. Yet, the clothing area can still get out of control and end up too jammed packed with clothes, shoes, and accessories. That is because these things have a way of growing (especially if you're a girl or woman!). Therefore, large or small, parring down becomes a necessity.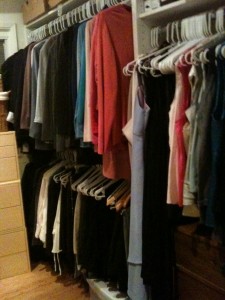 When it gets to parring down your clothing, the task is often performed during a seasonal change. No matter when it's done, it involves setting aside some time to allocate for the sorting process.
Do a closet sweep in sections. Sort through clothes by working on sections of your closet, like a few feet of clothing rod space, or shelf section.
Have tools ready for sorting clothes. This would be boxes or bins or trash bags to place discarded clothing items to "donate", and ideally a wheeled clothing rack for what you are keeping.
Organize as you go. You can put some items you're keeping within a section back on clothing rod in closet (to make room on wheeled clothing rack for next section). Do this by placing items back in closet by category or type of clothing, and color within that category.
Repeat the sorting process. After the first closet sweep is done, do it again. This time, really evaluate whether you truly, really like it and/or will wear it again.
Sort dresser drawers, too. Need I say more?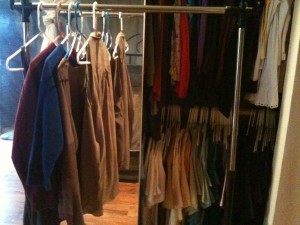 If you're going a step further and doing a mini-closet makeover, consider replacing wire hangers with some space-saver hangers.  The Container Store has some fabulous solutions for hanging clothes that save on space, like the "huggable hangers", or add-on skirt hangers, or tiered slack hangers.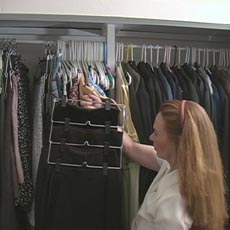 There are also some good solutions to store your shoes and clothing accessories better, like for belts, ties, and scarves. And, speaking of scarves, since this is the season for those, here's an over-the-door hook solution I use in one of my closets: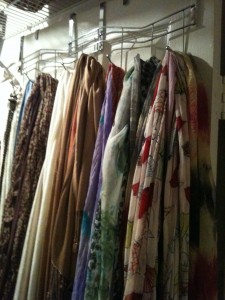 And ladies, for shoes, I really liked this shoe organization for shoes stored in boxes – having a photo of the pair of shoes on outside of the box! I've done a project like this for a client and, what fun!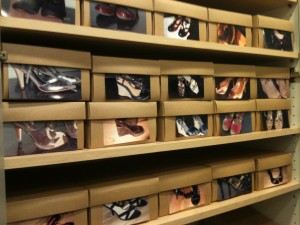 Okay, now that your clothes are all sorted and organized, let's make it easier to keep it that way …
My golden rule for clothing maintenance is:
WHEN YOU BUY SOMETHING NEW, GET RID OF SOMETHING OLD.
No, I'm not yelling. I'm emphasizing.
If I buy an article of clothing or pair of shoes, I replace something in the closet with the new item. If I buy 3 new articles of clothing, I must discard 3 articles of clothing. Sometimes, this is not so easy and I have to go through my closet twice to find something I'm okay about parting with!
Now, after many years of applying this policy (or guideline, if you will), I've been able to manage my closet easily year-round, and no longer have to make "an event" out of it.
Of course, now that cooler weather is approaching, I do have an annual task to confront – my coat closet. And that is because I haven't applied my closet policy in THAT closet! No biggie though. Doing that closet annually is good enough for me.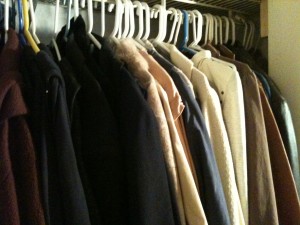 Happy sorting this season!