Sometimes we just get tired of  looking at the same old room and wish it to have a whole new look.
It could be that we are tired of the furniture, or the way it is situated in the room, or even the decor, or lack of decor.
The decision to convert the look of a room is often prompted by something, like adding one piece to the room.
That's what happened to one couple after buying a new bed. Once their new bed and beautiful new bedding arrived in the room, the rest of the stuff in it didn't look so good to them anymore.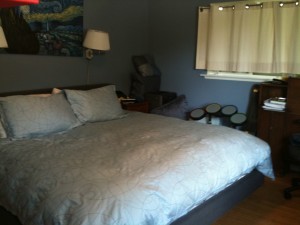 You could say the life-cycle of the room was over.
Since the blue wall colors were still pleasing to the couple, this was the only thing that was to remain unchanged (besides the new bed, of course). The rest of it – the furniture, curtains, wall decor, accessories – was going to be replaced.
Upon interviewing the couple, I was able to determine what they wanted and get a sense of their taste and color preferences.
The woman wanted a private work area with a desk for her computer, where she could shut the door and work undisturbed by her two young children.
The man wanted a place to hang their new 36″ TV on the wall in view from their bed.
I took these into account, and proposed some other options for the room as well.
One of the suggestions was to get a wardrobe closet unit since their existing shared closet was too small and crowded.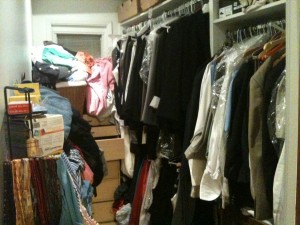 Besides the king bed, this piece of furniture was going to be the largest piece to fit in the relatively small master bedroom.
I started to look around at various wardrobe closets, since it was going to be the largest piece of furniture we were buying for the room. I noted the different sizes they came in, as well as some good choices.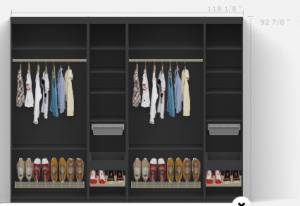 From these choices and size options, I created a floor plan (actually, I created several floor plans before I decided on the best one!). This plan would allow for a 78″ wide closet and area for a 40″ wide desk.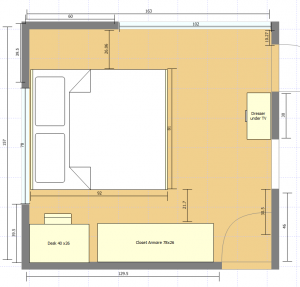 I then created artistic renderings to show the couple what the room would look like. The client decided not to do a canopy over bed however.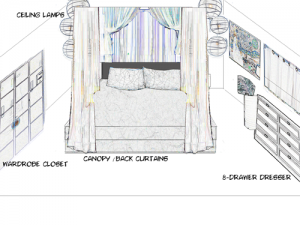 The wardrobe closet, dresser, and desk were assembled, and curtains were hung.
Now, it's a beautiful room, no more clutter, a place for a home office, and plenty of closet space!
All that's left are touches of decor, some wall shelves, and ceiling lights to finish up the room.